Only a few of our in stock Golf Carts.
Over 150 New and used golf carts at Atwill Service Centre
Custom Painted Club Car Precedent Electric Golf Cart
Custom orange painted cart sold fully equipped with newer batteries(sold with charger). Includes rear flip seat, rear view Mirror and tinted windshield. Brand new this year are the LED Headlights and Taillights. With custom fitted seat covers. 3″ Jake's lift kit to fit the 12″ ITP SS Rims with 215/40r12 Low profile tire.
Price $7,499
2006 Silver EZ-GO Txt Gas Golf Cart ~ 2 Seater
Stock 2006 Ez-Go gas golf cart with folding windshield. Plenty of stock to choose from! We offer a full line of upgrades and accessories for these carts. Ask us about customizing it to what you want.
Price – SOLD!!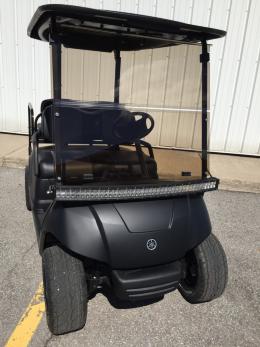 Customized 2009 Yamaha Drive Gas Golf Cart
2009 Yamaha gas golf cart painted flat black with matching custom seat covers, tinted windshield, rear flip seat, black 12″ wheels with low profile tires, black roof with L.E.D. tail light and 40″ L.E.D. light bar to light the road ahead. A real MUST SEE!!!
Price – SOLD!!
Golf Cart Services
Satisfaction Guaranteed